The Scarlet Letter
In this excellent adaptation of Hawthorne's renowned novel, Colleen Moore is Hester Prynne, who is forced to wear the scarlet "A" for adultery in her repressive village.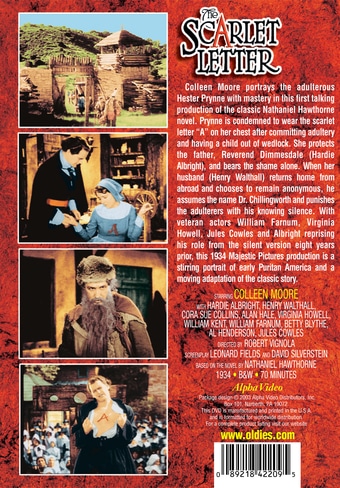 SALE:
$

5

.95
List Price:
$7.98
You Save:
$2.03 (25% Off)
Available:
Usually ships in 1-3 business days
DVD Features:
Based on the novel by Nathaniel Hawthorne
Rated: Not Rated
Run Time: 1 hours, 10 minutes
Video: Black & White
Released: September 9, 2003
Originally Released: 1934
Label: Alpha Video
Encoding: Region 0 (Worldwide)
Packaging: Keep Case
Aspect Ratio: Full Frame - 1.33
Performers, Cast and Crew:
Description by OLDIES.com:
Colleen Moore portrays the adulterous Hester Prynne with mastery in this first talking production of the classic Nathaniel Hawthorne novel. Prynne is condemned to wear the scarlet letter "A" on her chest after committing adultery and having a child out of wedlock. She protects the father, Reverend Dimmesdale (Hardie Albright), and bears the shame alone. When her husband (Henry Walthall) returns home from abroad and chooses to remain anonymous, he assumes the name Dr. Chillingworth and punishes the adulterers with his knowing silence. With veteran actors William Farnum, Virginia Howell, Jules Cowles and Albright reprising his role from the silent version eight years prior, this 1934 Majestic Pictures production is a stirring portrait of early Puritan America and a moving adaptation of the classic story.
Product Description:
This faithful adaptation of Nathaniel Hawthorne's 1851 novel about a woman who is forced to wear a scarlet letter A on her bosom because she has an illicit affair is a damning depiction of Puritan life in 17th Century Salem, Massachusetts. When her husband Roger (Henry B. Walthall in the same role he played in the 1926 version) is declared dead after being missing for years, Hester Prynne (Colleen Moore in her last film) falls into the arms of Reverend Dimmesdale (Hardie Albright). She delivers a child out of wedlock and is tortured by the prudish residents of her town when they ostracize her from the community and taunt her as she tries to raise her child alone. The reverend wants to let everyone know that he is the father, but the pious Hester refuses to let him shame his name. To make matters worse, Roger returns and vows revenge for his wife's misdeeds. THE SCARLET LETTER is a penetrating examination of the devastation of Puritanism on the human soul and the evils of intolerance in 17th-century Massachusetts.
Keywords:
Movie Lovers' Ratings & Reviews:
Customer Rating:
Based on 388 ratings.

The Scarlet Letter
Movie Lover:
henri donadille
from
clamart, Hauts-de-Seine FR
-- March, 27, 2004
Better scripted and closer to the novel than the 1926 version, this version is marred by the miscasting of Moore as Hester Prynne(portrayed infinitlty better by Lillian Gish in the silent original).Other than that it's an acceptable, interesting version of the classic tale.
Similar Products
Product Info
Sales Rank: 7,104
UPC: 089218422095
Shipping Weight: 0.27/lbs (approx)
International Shipping: 1 item