Abbey Road (Remastered Deluxe Package with Mini-Documentary)
Newly Re-Mastered Audio / Deluxe Package / Enhanced CD with Mini-Documentary for Mac or PC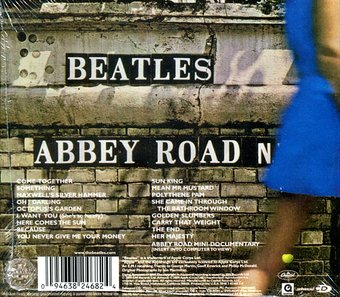 Price:
$

18

.10
List Price:
$18.99
You Save:
$0.89 (5% Off)
Available:
Usually ships in 1-3 business days
CD Details
Released: September 9, 2009
Originally Released: 2009
Label: Capitol
Entertainment Reviews:
Rolling Stone
- 12/11/03, p.94
Ranked #14
in Rolling Stone's "500 Greatest Albums Of All Time" - "...Superb songs cut with an attention to refined detail, then segued together with conceptual force..."
Ranked #17
in Q's "100 Greatest British Albums" - "The last Beatles LP to be recorded...it [has] extremely well-drilled and elaborate song structures....the quick-fire 8 track medley starting with 'You Never Give Me Your Money' and ending with 'The End' is unprecedented in rock..."
4 Stars
- Very Good - "...What is it that makes the Beatles so likeable? Maybe it's that they never seem to strain for effects yet are meticulous craftsman; that their humor, even when rather gruesome ...is never offensive; that their satire is never malicious; their lyricism never maudlin, but their work still has punch and conviction...genuine musicality and poetic imagination..."
Paste (magazine) (p.61) - "[T]he album is brilliant. From Lennon's slinky 'Come Together' to McCartney's passionate '50s-style rocker 'Oh! Darling'..."
Tracks:
1.

Come Together

2.

Something

3.

Maxwell's Silver Hammer

4.

Oh! Darling

5.

Octopus's Garden

6.

I Want You (She's So Heavy)

7.

Here Comes the Sun

8.

Because

9.

You Never Give Me Your Money

10.

Sun King

11.

Mean Mr. Mustard

12.

Polythene Pam

13.

She Came in Through the Bathroom Window

14.

Golden Slumbers

15.

Carry That Weight

16.

End

17.

Her Majesty
Product Description:
ABBEY ROAD, recorded in the summer of 1969, was the last album recorded by the Beatles (LET IT BE was released in 1970, but recorded in early '69).
The Beatles: Paul McCartney (vocals, guitar, keyboards, bass); John Lennon (vocals, guitar, keyboards); George Harrison (vocals, guitar, synthesizer); Ringo Starr (vocals, drums, percussion).
This reissue of ABBEY ROAD has been digitally re-mastered. It comes packaged with replicated original U.K. album art, an expanded booklet containing original and newly written liner notes, and rare photos. Limited quantities of the CD are embedded with a brief documentary film about the album.
Audio Remasterers: Sean Magee; Sam O'Kell; Steve Rooke; Guy Massey; Paul Hicks.
Liner Note Authors: Mike Heatley; Kevin Howlett.
Recording information: 02/22/1969-08/20/1969.
Photographer: Iain Macmillan.
Conventional wisdom holds that the Beatles intended Abbey Road as a grand farewell, a suspicion seemingly confirmed by the elegiac note Paul McCartney strikes at the conclusion of its closing suite. It's hard not to interpret "And in the end/the love you take/is equal to the love you make" as a summation not only of Abbey Road but perhaps of the group's entire career, a lovely final sentiment. The truth is perhaps a bit messier than this. The Beatles had tentative plans to move forward after the September 1969 release of Abbey Road, plans that quickly fell apart at the dawn of the new decade, and while the existence of that goal calls into question the intentionality of the album as a finale, it changes not a thing about what a remarkable goodbye the record is. In many ways, Abbey Road stands apart from the rest of the Beatles' catalog, an album that gains considerable strength from its lush, enveloping production -- a recording so luxuriant, it glosses over aesthetic differences between the group's main three songwriters and ties together a series of disconnected unfinished songs into a complete suite. Where Sgt. Pepper pioneered such mind-bending aural techniques, Abbey Road truly seized the possibilities of the studio and, in doing so, pointed the way forward to the album rock era of the 1970s. Many of the studio tricks arrive during that brilliant suite of songs, a sequence that lasts nearly a full side of an album. Here, McCartney's playful eccentricity juts against John Lennon's curdled cynicism, while the band thrills in sudden changes of mood and plays plenty of guitar, culminating in McCartney, Lennon, and George Harrison trading solos on "The End." The depth of sonic detail within "You Never Give Me Your Money" and "She Came in Through the Window" provided ideas for entire subgenres of pop in the '70s, but Abbey Road also contains a handful of the most enduring Beatles songs, each adding a new emotional maturity to their catalog. The subdued boogie of Lennon's "Come Together" contains a sensuality previously unheard in the Beatles -- it's matched by "Because," which may be the best showcase for the group's harmonies -- Harrison's "Something" is a love ballad of unusual sensitivity, and his "Here Comes the Sun" is incandescent, perhaps his purest expression of joy. As good as these individual moments are, what makes Abbey Road transcendent is how the album is so much greater than the sum of its parts. While a single song or segment can be dazzling, having a succession of marvelous, occasionally intertwined moments is not only a marvel but indeed a summation of everything that made the Beatles great. ~ Stephen Thomas Erlewine
Similar Products
Product Info
Sales Rank: 12,009
UPC: 094638246824
Shipping Weight: 0.16/lbs (approx)
International Shipping: 1 item