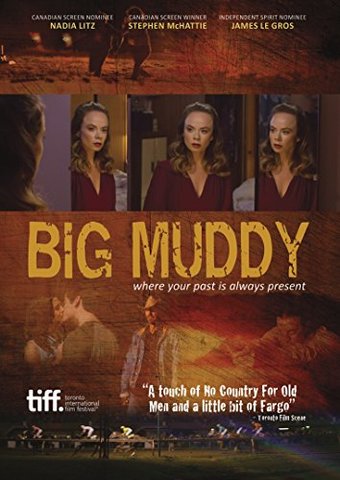 SALE:
$

3

.98
List Price:
$26.95
You Save:
$22.97 (85% Off)
Available:
Usually ships in 1-3 business days
LOW STOCK:
Only 3 copies left
Format: DVD
DVD Features:
Rated: R
Closed captioning available
Run Time: 1 hours, 44 minutes
Originally Released: 2014
Encoding: Region 1 (USA & Canada)
Note: Creating the score: William Rowson
Aspect Ratio: Widescreen
Audio:

Dolby Digital 2.0 Stereo - English
Dolby Digital 5.1 - English
Performers, Cast and Crew:
Entertainment Reviews:
Rating: 2/4
-- It dawdles and meanders a little too much in the getting there, but at least once Martha and Stan are in the same house, Big Muddy starts livening up its beat-up setting.
Full Review
Rating: 3/5
-- Jefferson Moneo, tackling his first feature, has a good handle on storytelling economy, and gives his unique setting ample time to shine.
Full Review
Rating: 2/4
-- Big Muddy often looks darkly sublime but the script, expanded by Moneo from his 2011 short, isn't quite up to the task.
Full Review
Rating: 1.5/4
-- A muddle, with a badly miscast femme fatale
Full Review
Rating: 4/5 -- Big Muddy is set in the present, but it doesn't have to be. The prairie-noir premise is pretty timeless.
Rating: 4/4
-- Atmospheric and absorbing, this well-crafted whodunit is rather reminiscent of Red Rock West.
Full Review
Rating: 3/4
-- It's a quintessentially Canadian idea mixed in with the material Moneo borrows from various hard-boiled film noirs and sun-dappled westerns.
Full Review
Product Description:
Jefferson Moneo's crime drama BIG MUDDY stars Nadia Litz as Martha Barlow, a criminal who survives with her boyfriend Tommy (Rossif Sutherland) and son Andy (Justin Kelly) by performing robberies. However, when Andy commits a crime that upsets the wrong people, Martha and her son must go on the run, eventually hiding out from Tommy and people who mean to do them harm at the home of Tommy's father (Stephen McHattie), who has had practically no contact with his former wife and son for years. Martha must figure out how to get her and her boy out of this dangerous situation, before all of them perish.
Similar Products
Product Info
Sales Rank: 23,109
UPC: 012233044928
Shipping Weight: 0.25/lbs (approx)
International Shipping: 1 item