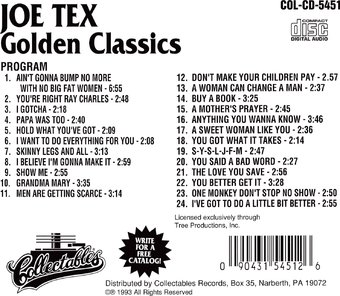 SALE:
$

5

.98
List Price:
$14.97
You Save:
$8.99 (60% Off)
Available:
Usually ships in 1-3 business days
CD-R Details
Released: March 14, 2006
Originally Released: 1993
Label: Collectables Records
Description by OLDIES.com:
Joe Tex, whose stage surname reflects his home state, got his start in the business when he won a talent contest at the legendary Apollo Theater in 1954. One of the best hard-driving up-tempo Southern Soul singers ever, Tex scored many hits on the R&B chart, many of which crossed over to the Pop charts. This classics collection has them all. From his first hit "Hold On To What You've Got" to his biggest Pop smash, "I Gotcha".
Tracks:
1.

Ain't Gonna Bump No More With No Big Fat Women

2.

You're Right Ray Charles

3.

I Gotcha

4.

Papa Was Too

5.

Hold What You've Got

6.

I Want To Do Everything For You

7.

Skinny Leggs And All

8.

I Believe I'm Gonna Make It

9.

Show Me

10.

Grandma Marty

11.

Men Are Getting Scarce

12.

Don't Make You Children Pay

13.

A Woman Can Change A Man

14.

Buy A Book

15.

A Mother's Prayer

16.

Anything You Wanna Know

17.

A Sweet Woman Like You

18.

You Got What It Takes

19.

S-Y-S-L-J-F-M

20.

You Said A Bad Word

21.

The Love Yu Save

22.

Yu Better Get It

23.

One Monkey Don't Stop No Show

24.

I've Got To Do A Little Bit Better
Product Description:
Personnel: Joe Tex (vocals).
Liner Note Author: David Nathan .
Tex was one of the best and most versatile of Southern soul singers, one of the few who was able to survive into the disco era without really changing his style, as witness his hilarious 1976 hit, "Ain't Gonna Bump No More (With No Big Fat Woman)," which differs from his 1967 "Skinny Legs And All" only by virtue of a slightly altered backbeat. This generous anthology serves up all his important work, from his breakthrough 1964 classic "Hold What You've Got" (Tex sings only the choruses; on the verses, he's essentially sermonizing, a trick which became one of his signatures) to his typically funny older-guy-with-young babe song "Buy a Book."
Music Lovers' Ratings & Reviews:
Customer Rating:
Based on 4 ratings.

Joe Tex...Uh Huh!
Music Lover:
Philip Penrose
from
Gulfport, FL
-- December, 18, 2017
Joe Tex…You gotta love him. Whether he's preaching to you through his song, or making a fool of himself, he has the voice to more than back up his varied styles of music and delivery. He can stand up to the best of southern soul singers. James Brown? Wilson Pickett? No problem. Joe Tex is right up there with them. I would have loved to catch him live.

This 24 song set provides a very good cross reference of Tex in his many moods - from contemplative to making fun of fat women and women with skinny legs (members of the #MeToo movement…beware).
The sound quality is good; a more analog feel than digital. Unless you are a completest, this might just be the one Joe Tex set you need.
Similar Products
Product Info
Sales Rank: 593
UPC: 090431545126
Shipping Weight: 0.25/lbs (approx)
International Shipping: 1 item